About Modena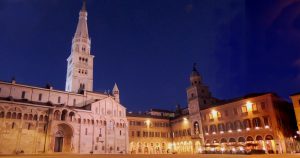 Modena is a beautiful city of 183,000 inhabitants located in the south side of the Po valley, very close to the Apennines, in the Emilia Romagna region of northern Italy. Modena is home to a wealth of artistic treasures, excellent gastronomy and famous motors. The main square of Modena, declared a UNESCO World Heritage Site in 1997, hosts one of the most beautiful medieval cathedrals in Italy.
Today Modena is a good-living and friendly city. Among small roads and large squares, different flavours tempt the people to sit in cafes or restaurants to enjoy the pleasure of its various and rich cuisine, worldwide famous for Aceto Balsamico Tradizionale (traditional balsamic vinegar), tortellini (meat-filled pasta), Prosciutto di Modena (raw ham), Lambrusco (red wine), even if these are just some examples of the local gastronomy. The richness of Modena also lies in famous motors factories (Ferrari, Maserati, Lamborghini) and in important tiles exporting excellent-quality products all over the world.
_____________________________________________________________________________
Congress venue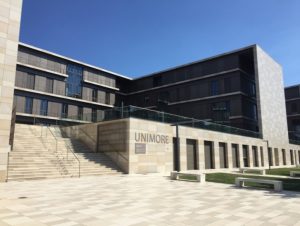 The University of Modena and Reggio Emilia (UNIMORE), founded in 1175, is one of the oldest universities in Italy. Nowadays, the University is composed of 14 departments, offering a wide range of degree programs, with about 20,000 students.
The host of the Congress is the Department of Chemical and Geological Sciences (DSCG), the main teaching and research institute in the fields of chemistry, geology and natural sciences at the University of Modena and Reggio Emilia. It is housed in a newly inaugurated building located about 2.5 km from the historical centre.
Address: via Campi 103, Modena.
How to reach:
– For those arriving from the Modena railway station or the city center: take the bus 7 ("Gottardi" direction) up to the "Braghiroli" bus stop (about 25 minutes, look at the bus itinerary in the map).
– For those arriving directly from the Bologna Marconi Airport: there is a shuttle bus every 2 hours; it takes about 40 minutes to arrive to Modena. Get off at the bus stop "Casa dello Studente", in via Vignolese. From here you have a 10 minutes walk to the Congress venue.
Modena taxi:  +39 059 212100 / +39 059 374242
Parking: Free parking spaces are available very close to the Congress venue.
Wi-Fi: A wireless Wi-Fi connection will be available freely throughout the Congress venue. Information about connection will be included in the Congress kit and provided at the registration desk.
_____________________________________________________________________________
 Accommodation
Participants are responsible for making their own accommodation arrangements. Modena offers a wide selection from cheap up to first class hotels. As in early September Modena still attracs many tourists, we warmly suggest that you book/reserve your accommodation well in advance of the Congress dates. The following list reports a selection of accommodations with special fees for the Congress participants. Discounts can be requested by phone or email when communicating with the reception, indicating specifically the agreement with the University of Modena and Reggio Emilia.
Accommodation

Address

Contacts

Distance from the congress venue

1

Hotel Astor 

Via L. Minelli, 61

+39 059 365037

200 m

2

Albergo Moderno 

Via G. Campi, 244/1

www.albergomoderno-hotel-modena.it

info@albergomoderno-hotel-modena.it

+ 39 3475503916

400 m

3

B&B Hotel Modena 

Via Emilia Est, 441

www.hotel-bb.com/it/hotel/modena.htm

+39 059 373888

Special offer !

Until the 31st of July the following types of rooms are reserved for the meeting:

– 20 single rooms (58€/day breakfast included)

– 20 double rooms (68€/day breakfast included)

for booking please contact the hotel by email

750 m

4

Hotel Daunia 

Via del Pozzo, 158

+39 059 371182

900 m

5

Canalgrande Hotel 

Corso Canalgrande, 6

+39 059 217160

2, 2 km

6

Best Western Hotel Libertà 

Via Blasia, 10

+39 059 222365

2,4 km

7

Hotel Cervetta 

Via Cervetta, 5

+39 059 238447

2,5 km

8

Hotel Principe 

Corso Vittorio Emanuele II, 94

+39 059 218670

2,7 km

9

Hotel Europa 

Corso Vittorio Emanuele II, 52

+39 050 217721

2,8 km

10

Best Western Premier Milano Palace Hotel 

Corso Vittorio Emanuele II, 68

+39 059 223011

2,8 km

11

Hotel Estense 

Via J. Berengario, 11

+39 059 219057

3,0 km

12

Central Park Hotel 

Viale Vittorio Veneto, 10

+39 059 225858

3,1 km
_____________________________________________________________________________
Tourist info
Modena Tourist Office is located in the main and most famous square of the city center: Piazza Grande 14, email: info@visitmodena.it, tel. +39 059 2032660